Types Of Restaurants In Italy
---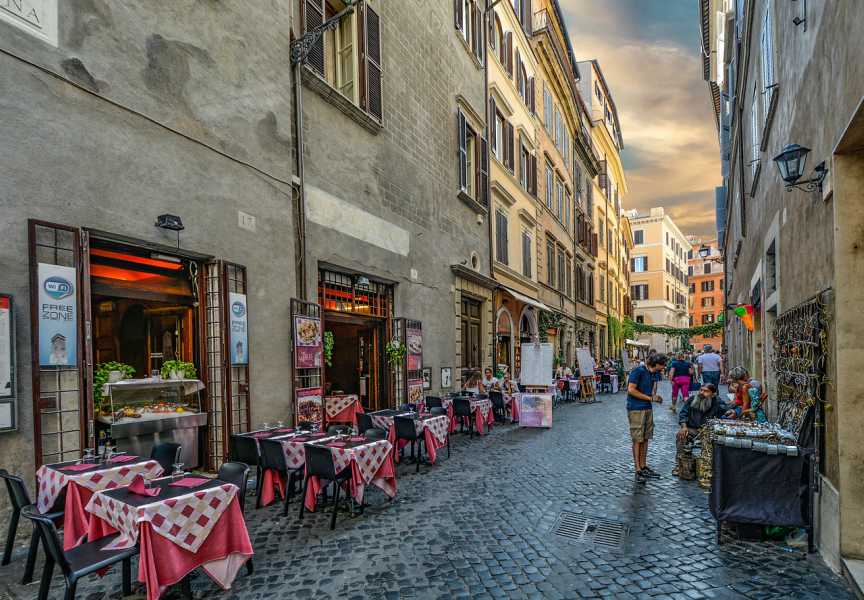 Dining out when in Italy can be an entirely different experience from what people in the United States would normally consider eating out. Most U.S. eateries have a place to sit and offer a variety of food, from expensive restaurants to coffee shops. However, in Italy the types of establishments you might eat at away from home are often a little more varied in setting and formality.
Pizzeria
In the U.S., pizzerias are most often considered a restaurant that offers mainly pizza. However, in Italy, the types of establishments that would be called "pizzerias" are more of an informal style restaurant. Pizzerias in Italy often serve a variety of dishes, not limiting themselves to just pizza. They are usually considered casual restaurants where you can sit down and enjoy a relaxing evening with friends in an informal setting.
Trattoria
In Italy a trattoria, like a pizzeria, is a type of casual restaurant. In this type of eatery setting you might expect to have your dining party joined with other diners you don't know. While this may seem unusual to a diner from the U.S., the experience is most often a friendly one enjoyed by all. The informality at this type of eatery creates a fun ambiance that makes them a great place to relax and enjoy a meal out away from the house.
Osteria
Osterias, or as they are known in some places, hostarias, were historically a type of inn. These establishments would provide lodging in addition to food, and sometimes local wine as well. This definition has fallen out of use however, and today osterias are generally considered small, family-owned eateries similar to trattorias. These eateries often serve a variety of dishes in a comfortable, casual setting. You might also hear these types of establishments referred to as tavernas.
Enoteca
An enoteca, or as they are sometimes known, fiaschetteria, is similar to a wine bar in the U.S. Enotecas in the past served only wine. In Italy, social drinking is not viewed in quite the same way as in the U.S. and some other countries. Enotecas were traditionally a stopping place to have a glass of wine on the way to a meal or other engagement, not their own social gathering places. However, today these establishments often serve light appetizers with their wine, and some even serve full meals.
Paninoteca
Paninotecas are, perhaps recognizable by their name, a type of sandwich shop in Italy. These eateries mainly offer paninis, or Italian sandwiches. This type of establishment is often very informal. Some paninotecas may be exclusively for take-out, and others may have a small seating area with a few tables inside or outside. These shops are often only open during the midday meal hours as well, so plan ahead if you are visiting one.
If you would like to try a taste of authentic Italian food for yourself, visit Italian Garden, located in San Marcos, TX.