Tips for Catering in San Marcos, TX
---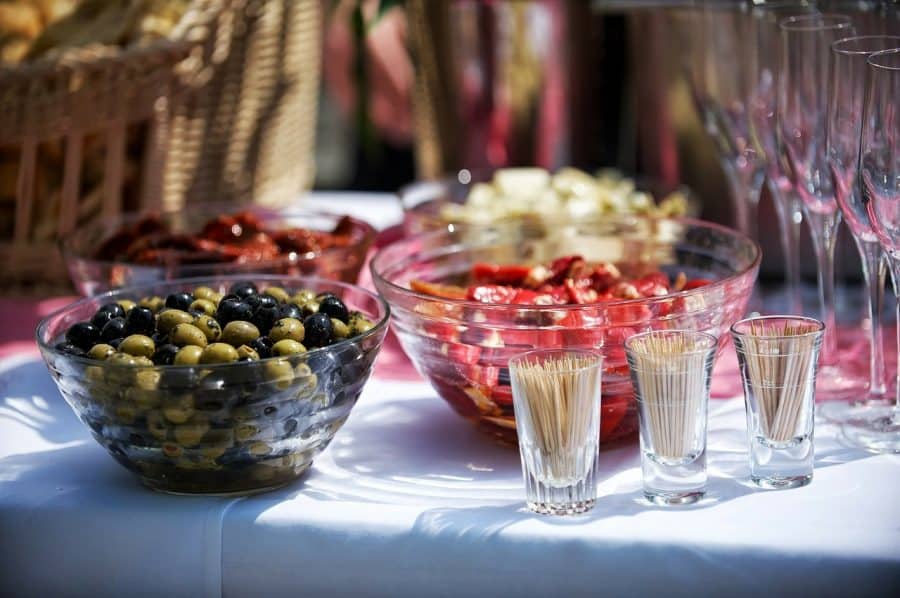 One of the most common mistakes people make when hosting an event is not providing enough food for everyone. No host wants to face a situation where the event is running dangerously low (or even worse–completely out) of food for the guests. On the other hand, no one wants to over-order food and have a ton of leftovers… so how do you find the sweet spot?
We've put together some tips that should help!
First, be sure you know the exact number of people that will be in attendance (or get as accurate of a guess as possible). It's also important to know how long the event will run. The longer the event, the more likely people will be looking for more food before all is said and done. If you're hosting an all-day event, you'll want to be sure you're prepared for people who are expecting both lunch and dinner… and maybe a little snacking in between.
After you have a general idea of how many guests you'll have, and how many meals/snacks you'd like to provide, be sure to be a little generous with your estimations. Some people won't eat much at all, while others will eat quite a bit more. It should even out by the end of the event. It can be hard to guess which foods will be most popular among your guests, but if you can make a guesstimate, try and order more of them than other dishes.
Appetizers:
Naturally, if you're not serving a full meal (lunch or dinner), you'll want to load up on appetizers and finger foods. It's a good idea to estimate at least 10 items per person, though you can possibly get away with a little less if the event won't be running too long. However, if you'll have the appetizers laid out buffet-style, it's a good idea to round up a bit, as people often take more than if food is passed out or passed around. If you're having a full meal (lunch or dinner), 3-5 pieces should be sufficient for each guest.
Catering Lunch:
In addition to appetizers (listed above), be sure to offer a main entrée with 2 – 3 sides. Dessert is optional, but can be a real crowd-pleaser.
Don't forget drinks (see below)!
Catering Dinner:
In addition to appetizers (listed above), Plan on a main entrée and 2 – 3 sides. Offer small portions of bread, salad, or soup (or a combination). Be sure to include beverages (see below).
Once again, desert is optional, but quite a majority of your guests will be grateful if you decide to offer something as an after-dinner treat.
Drinks:
Be sure to offer a variety of drinks, such as soda, beer, water, tea, etc. When it comes to drinks, variety is key to pleasing everyone.
If you need catering in San Marcos, TX for an event–whether you're hosting a fundraiser, party, family get-together or reunion, celebration, or anything else–you can't go wrong with some delicious Italian food! Visit our catering page for food ideas and pricing. Our goal is to help ensure your event is one that won't soon be forgotten… without breaking the bank!