Pizza and Wine, the Perfect Match
---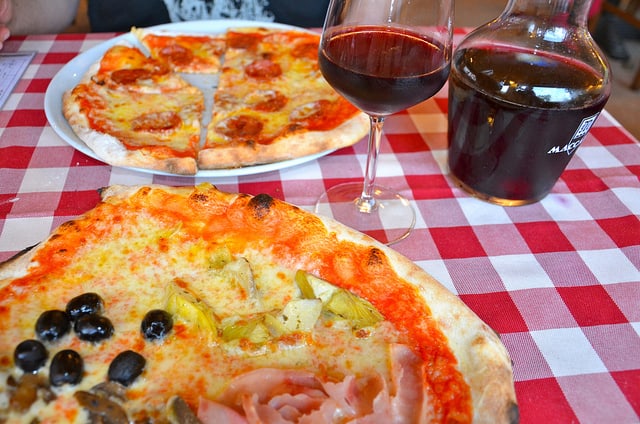 Pizza and wine go together like chocolate and peanut butter. On their own, they are lovely, but pair them up and they are divine. With so many wines and so many types of pizza, pairing the two can be a bit daunting, but it doesn't have to be. You can impress your foodie friends and tickle your taste buds by ordering any of following combinations.
Meat Lovers Match
If you feel that pizza isn't pizza unless it is covered in pepperoni or you haven't met a meat topping that you didn't like, then Chianti is your friend. Chianti is produced in the Tuscan region of Italy and it is usually served in an iconic bottle that has been nestled in a straw basket. With its savory sweet blend and medium to high acidity, it goes well with salty cured meats such as bacon, prosciutto or pepperoni. Chianti partners well with red sauce, making it one of the best known wines associated with Italy.
Cheese Please
If you are in the anti-topping crowd and plain cheese pizza is the only pizza you will eat, pair it with a glass of Cabernet Sauvignon. Cabernet Sauvignon is a full bodied wine that is very acidic. When you serve it with cheese pizza, it's subtle undertones of green peppers and black olives are allowed to shine. You may not like toppings on your pizza, but I'll bet you'll love the complexity of flavors found in a good glass of Cabernet Sauvignon.
Veggie Varieties
If vegetarian pizza is your thing, you can't go wrong partnering it with Pinot Noir. Don't let the fact that Pinot Noir originated in the Burgundy region of France keep you from enjoying a glass with Italian food. Pinot noir is a light bodied wine with a lingering nuance of berries. With its sweet fruity flavor, it provides the perfect balance for a pizza loaded with vegetables, especially greens. If you want to really give your palate a treat, ask for extra mushrooms on your pizza. Pinot Noir and mushrooms are a match made in Heaven!
White Sauce Wines
If you prefer white sauce over red sauce on your pizza, you want a wine that is light and crisp in order to balance the heaviness of a cream sauce. Pinot Grigio is the white sauce pizza lovers friend. Pinot Grigio is the Italian take on France's Pinot Gris wine. It is light and fresh with a touch of fruity spice. Pinot Grigio's refreshing lightness helps lesson the richness of the buttery cream found in white sauce. It also pairs well with the typical toppings found on a white pizza, such as spinach, chicken, or cheese.
A bottle of wine and a pizza have a very important trait in common. Both of them are better when shared with friends. Now that you have some ideas for pairing the two, why not invite some of your best friends for a night of pizza, wine and fun. Don't forget to raise your glass in a toast, saying, "Alla nostra salute e alla nostra amicizia!" which in Italian means, "To our health and to our friendship!"