Italian Cuisine By Region, Part 3
---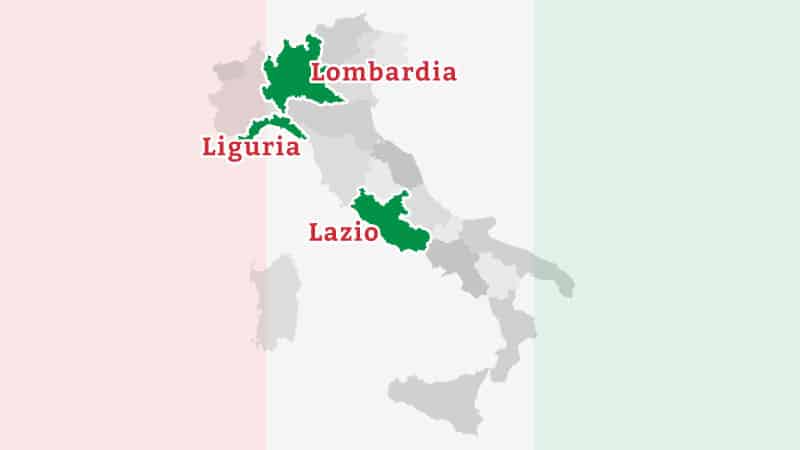 This month, we'll be looking into the food of 3 Italian Regions whose food is closely tied with the local history. From the Roman cultural heritage Lazio to the cattle farmers and cheese-making monks of Lombardia, come discover some of the most historic and storied foods of Italy!

Lazio
In the center of the country along the Tyrrhenian coastline is the Lazio region, famous for being a hub of cultural trade since the Roman times. An incredible amount of history can be found here, from the ancient cities of the Tiber River valley to the architecture and artwork of the city of Rome. Because of its role as a cultural hub, the food of Lazio tends to be simple and iconic, embodying the staples of what we associate with Italian cuisine: pastas and sauces made with fresh, readily available ingredients along with pork and red meats.
Some famous dishes from the region you should try include:
Fried Mozzarella—Simple ingredients come together perfectly in this triumph of Italian cooking.
Bucatini with Amatriciana Sauce—Bucatini pasta with spicy tomato bacon sauce.
Baked Spring Lamb—Spiced with rosemary, garlic, and vinegar.
Cinnamon Ricotta Ravioli—Sweet, flaky fried ravioli served with ricotta cheese.

Liguria
On the northwest coast, the steep, fertile valleys of Liguria yield all kinds of vegetables and herbs that are used together with fish caught from the nearby Tirrento Sea. Basil, a spice strongly associated with Italian cooking, is very common in this region. It's not surprising then that Genovese pesto is one of the most famous foods hailing from this region—pesto is made from basil combined with olive oil, garlic, and Parmigiano Reggiano. Fish is also popular in this region, prepared as soups, fillets, and casseroles.
A few notable dishes from the region:
Quiche with Chickpea Flour—A gluten-free recipe that is both simple and flavorful.
Trenette Pesto—These small pasta noodles are combined with the fresh ingredients of pesto and twisted together.
Ligurian Mussel Soup—Specialty of the Ligurian coastline, a light soup made with mussels.
Lombardia
In the north of Italy, mountains and rivers define the borders of Lombardia, a region where richness is king and meats, cheeses, and butter are plentiful in the cooking. Signature dishes include rice-based Risotto and cornmeal-based Polenta, both combining local ingredients in savory, buttery soups. Cattle raising is long-standing tradition of the plains of Lombardia, allowing the region to become famous for various types of cheeses as well as the aged beef Bresaola DOP.
Some famous dishes from the region:
Cheesy Buckwheat Fritters—Buckwheat flour combines with Casera cheese into savory fried dough balls
Milanese Risotto—A quintessential rice dish flavored with saffron, often served alongside beef or veal.
Milanese Chopped Veal—Buttered, breaded and seasoned, this is considered the most famous veal chop in the country.
We hope you found this entry in our Cuisine-by-Region series to be interesting! Curious to know more about Italy, or just waiting for some new recipes to try out? Check back in next month for the next entry in this series where we'll cover three more regions. In the meantime, we'll be here to satisfy your cravings for Italian food in San Marcos, TX!