Italian Cuisine by Region, Part 1
---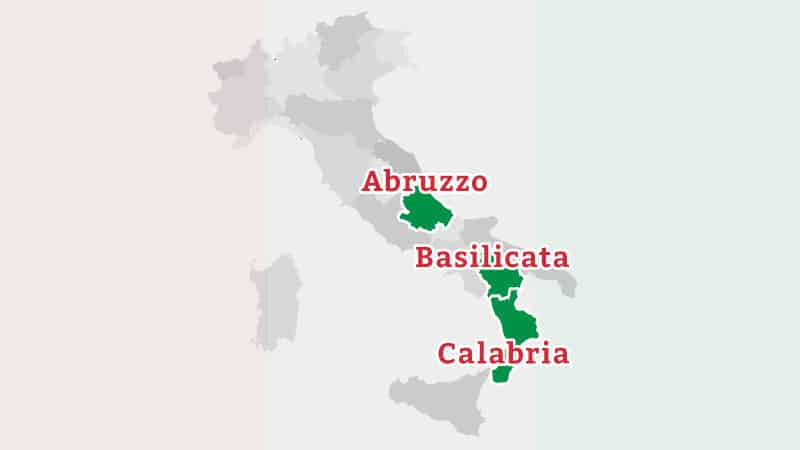 Curious to learn a bit more about where your favorite Italian dishes come from? Italy is a country with rich and diverse culture, geographically divided into 21 regions that are each known for different dishes and culinary styles. Italian chefs take pride in their regional specialties, and ingredients from one region might taste completely different from one across the country. Because of this, we think it's important to have an appreciation for the regional origins of the various Italian dishes we know and love.
This article aims to be the first in a series of posts detailing each of the 21 regions of Italy and the cuisine they're famous for. You've tasted San Marcos Italian food, now get a feel for where those traditions come from!

Abruzzo
Located on the Adriatic coast, abruzzo is a region including flat coastal land as well as some tall mountian peaks in the Apennine chain. The local culinary style reflects the simple, pastoral attitude the region is known for: inexpensive pasta is often paired with lamb, fish, and the local specialty ingredients of red garlic and saffron. While the cooking is usually restrained, things can get pretty extravigant during the celebratory feast called Panarda.
This region is known for dishes such as cheese balls, saffron potato soup, and artichoke flan.

Basilicata
Towards the south of Italy, the mountainous Basilicata is perhaps best known for its agricultural tradition. The regional soil yields such crops as olives, begetables, legumes, and Sarconi beans that come together into soups or with pasta made from locally grown wheat. Being a coastal region, fish such as sardines and cod are also commonly used.
Regional dishes include the chickpea-based pasta Lagane, bacon sauce used in various pastas, spicy chicken stew, and almond toffee.

Calabria
The region making up the very tip of the Italian "boot", Calabria isn't always the most geographically hospitable part of the country due to the frequency of natural disasters. That being said, the resourceful locals still find a way to fish frequently, and the region has made a name for itself through its use of seafood such as tuna. Farther inland, flatbreads and pork are popular.
Calabria is home to dishes such as Eggplant "meat" balls, swordfish with capers and lemon, traditional Italian licorice (liquirizia), and the arab-originating sweet Mostaccioli.
That's it for this post; we hope you found this Italian cuisine-by-region format to be interesting! Regional tradition is very important to Italian food, so we think this information is essential to truly appreciating the history of our food. Is there a particular region or dish you'd like to know more about that we haven't covered? Check back in next month for more!