Fall Flavors: Risotto, The Versatile Dish
---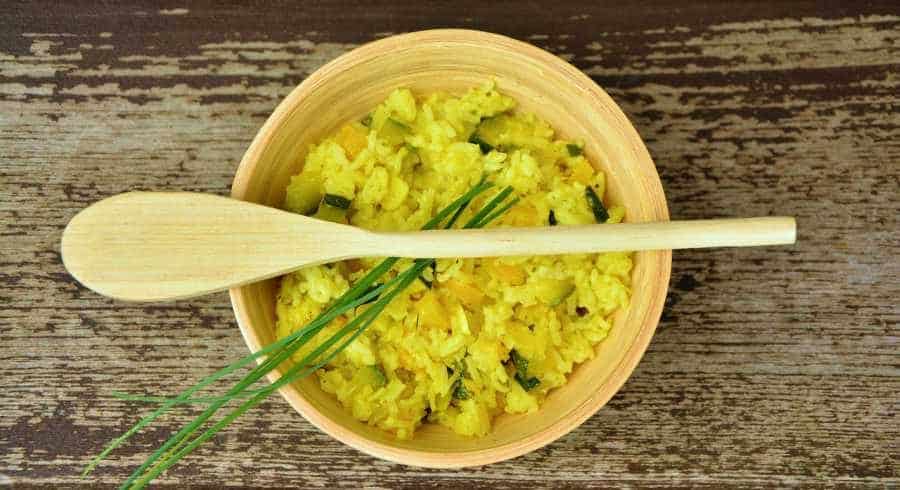 What is Risotto?
When one thinks of Italy, pasta and olives usually come to mind. Risotto may also resonate in the minds of others. Risotto is a northern Italian rice dish that originates from Lombardy, Italy. Generally or more accurately, traditional Risotto is cooked in a broth until it has a creamy consistency. It is generally cooked in a broth that can be made of anything you choose.
How Might One Utilize Risotto?
Risotto can be used as a main dish by mixing in seafood, meat, or vegetables or you could have it as a side dish. Moreover, if you want to keep a traditional spin you can serve it with Ossobuco (Italian for 'casserole') which consists of veal on the bone.
Risotto Recipes to Warm You Up This Fall!
Risotto, being a rice dish, is widely versatile so you can feel free to let your imagination run wild next meal time with some of these ideas!
Italian Chinese Fried Rice Risotto
This is a great way to jazz up Risotto and use up some left overs. All you need to do is cook your Risotto in the usual fashion, then mix in veggies and candy pork, then serve when the veggies and meat are heated through.
Seafood Chowder & Risotto
Chowder is a rich and creamy dish and any seafood chowder can be complemented with a Risotto. A popular method is to serve my chowder on top of a basic Risotto cooked in chicken broth or you could always serve it on the side. Indeed this is a perfect match for any fall supper.
Risotto Stuffed Bell Peppers
Who doesn't love stuffed bell peppers? Why not try making your next batch with a Mexican style Risotto and add a little spice to those peppers!
Red Beans & Risotto
Red beans and rice is a New Orleans classic. For a twist on your next helping of red beans why not serve your beans over a nice Risotto and add some spices for a kick!
Breakfast Risotto
For your next Sunday brunch make a tasty Risotto and add some cooked bacon and scrambled eggs. It is sure to be a brunch favorite!
Arancini (Stuffed Risotto Balls)
Arancini are a traditional deep fried treat from Italy. In its basic form, the balls are made with rice, meat, and cheese then coated in breadcrumbs and deep fried for your delight. When it comes to Arancini you can let your imagination run wild. You can even splice Arancini with scotch eggs for your next fall treat!
Indian Chicken and Rice
Indian and Italian, what a mix right? It is a match made in heaven. After making a basic Risotto (with Indian spices such as curry and turmeric added), all you need to do is add some curry sauce and some pre-cooked chicken to transport your family to the majesty of India, one bite after the next!
Ready to Try Some Risotto?
As you can tell from the recipes above, your options are limitless and with Risotto you can make mealtime fun for the fall season.
If you would like to experience more authentic Italian dishes, visit Italian Garden, located in San Marcos, TX.