The Divide Between "Italian" Food Around the World and Cuisine From Italy: Part Three
---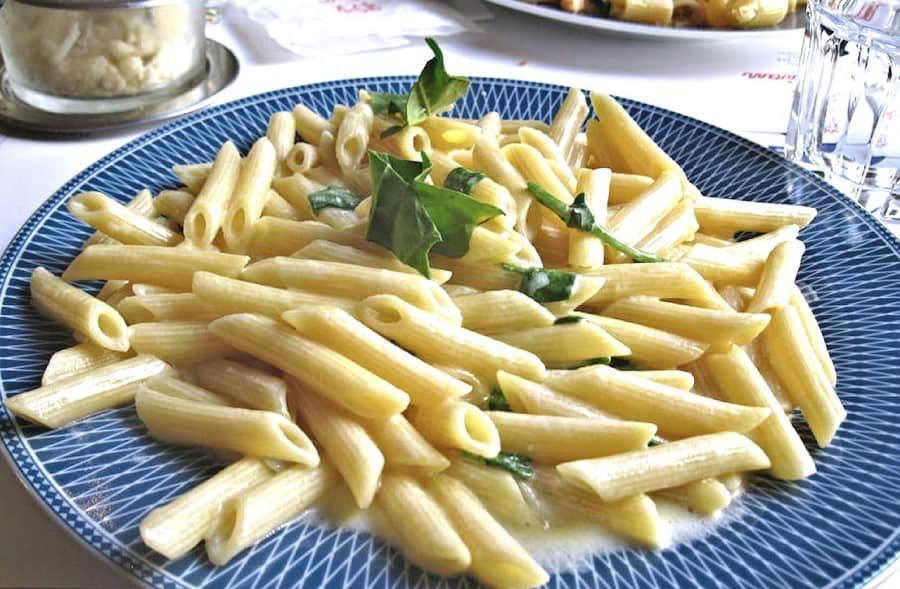 There is a country where the wine flows, the garlic bread is served next to the cheesiest mozzarella sticks imaginable, spaghetti is mixed with meatballs, the coastline and women are beautiful, and the scampi? Well the scampi is the shrimpiest. I'm speaking of Italy, right? Wrong. These are actually all creations of America (other than the wine, of course). The fact that this is so surprising is why we made this article to go over some of the differences between traditional Italian food and Italian food elsewhere.
Fettuccine alfredo is a big one that's a perfect example of food made for Americans alone. It is also a perfect example of food that isn't necessarily traditional still being very good, at least from the perspective of American taste buds. Unlike the other examples, it was actually made in Italy, even if it is basically only eaten in other places. But the story of how it was created is actually quite funny. You see, American's, compared to the rest of the globe, are huge connoisseurs of cheese. Traditionally, a creamy cheese would not be imagined to be put on pasta, especially as Italians have a large preference towards trying to eat healthy. And alfredo is not exactly the healthiest dish. Just as Italy does not use butter on its bread as it is not in the culture, they do not use it on their pasta either.
So the story goes that one of the only places on the peninsula that serve the dish, is a place named "Alfredo's" in Rome, run by none other than yes, Chef Alfredo. Legend goes that he created the dish in 1920's because his traditional offerings of Italian food were not being reordered by his picky American clientele. So to appeal to the wealthy American and other foreign tourists, he combined cheese, cream, butter and occasionally chicken, with thick Alfredo noodles, to create Fettucine Alfredo. And it was a huge success, but not something that the locals were ever very interested in. Which is precisely the reason that it is only made in Rome, because of its reputation as a tourist hotspot. It is one of these tourists, Douglas and Mary Fairbanks that actually tried it while they were on their honeymoon and enjoyed it so much they brought the recipe they got from the Chef and took it home. The rest is history.
Many of these dishes are assumed to be Italian in nature because of their use of Italian words to describe the recipe. Shrimp scampi is the same way as the others. In fact, scampi is actually a word for tiny lobsters, not even shrimp. So really, the name itself simply means Shrimp Little Lobster. Over time instead of these scampi's being used, they were substituted for shrimp, likely due to the ease in which they are purchased, compared to the price of scampi. The original recipe also would never have used red peppers or the same level of herbs, and especially not the level of garlic this dish calls for.