Determining the Right Catering Option for Your Event
---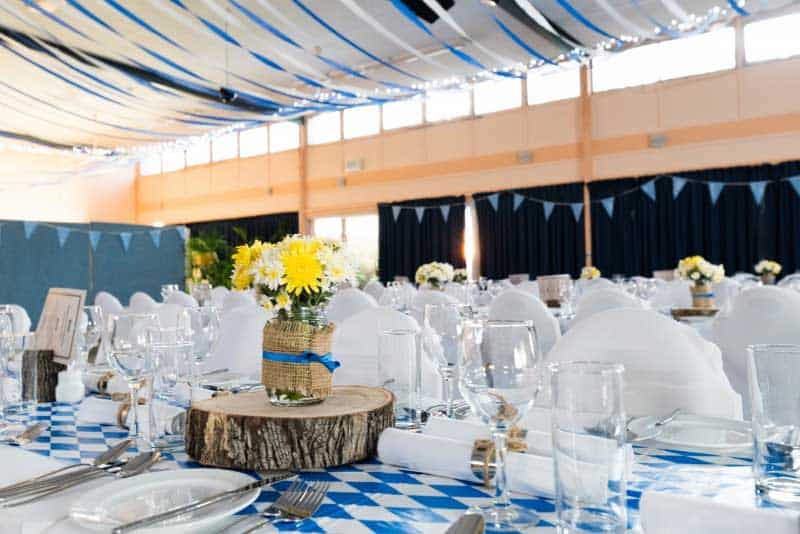 Catering options can come in all different amounts, sizes and dishes. While it can vary, many catering services and restaurants offer a wide variety on their menus, often in portion sizes as small or as large as you want. This makes sense, as there is a huge amount of events for which ordering catering would be appropriate, each with their own unique menu needs. Some events call for sitting down around a table, enjoying company, having a couple guests, and needing food that can be eaten as courses. Sometimes everyone is going to be standing the entire night, and you need finger food and appetizers. How should you determine what kind and amount of food to order for your event?
Appetizers & Finger Foods
If you're organizing a networking event, political rally, business group meeting, or a similar function, you probably do not want to have a full sit-down meal. Not only does it tend to take up a bit more space, but your guests not only don't expect it, they may not have time for it. Not that free food is ever snubbed, but sometimes it makes sense to go with appetizers and finger foods. Especially if you aren't going to have anyone to serve it, appetizers that are made up of fried foods such as fried mushrooms or fried calamari are almost always crowd pleasers, and they go great with various dipping sauces.
At many events, people are moving quick and talking a lot, which means full entrees can sometimes create a slower environment. When you are eating a full meal, you have to sit down and generally not socialize as much. It is best in some events if you can talk to as many people as possible, and that is easiest if they are not bogged down with a full plate of food stopping them from interacting.
Full Course Meals
Now with galas, sit-down family events, or things of that nature, it can be nice to have a time to sit down and eat. You may want to consider the fact that people will have to serve themselves unless you hire staff, but that isn't a problem with events that are not super upscale.
If you are serving a group of people that tend to be more health-conscious, let's say a meetup group for Yoga enthusiasts, or your family is just health conscious in general, salads can make for an excellent item to serve for large groups. Even if you are already planning on getting a main course or a set of appetizers, salads make a great vegetarian option for those who need one. Options like fried mushrooms, while technically being meatless, might scare away the more health conscious.
Family Dinners
When it comes to a simple sit-down meal with the family, catering can be a surprisingly easy and cost-efficient option to feed everyone. Instead of having three or four orders of trays like a large event might have, a single order can save money on the whole for small-to-medium sized groups, provided it's a meal that everyone likes. Restaurants that offer catering-sized portions often provide a discount for their large orders, so this can be a great budget-conscious alternative to ordering individual servings for everyone.
If you're organizing an event and looking for a local business for catering services in San Marcos, give us a try! Just let us know the day before and we'll have it ready the next day—no long waits or huge amounts of advance notice needed.