A Day in Beautiful Venice
---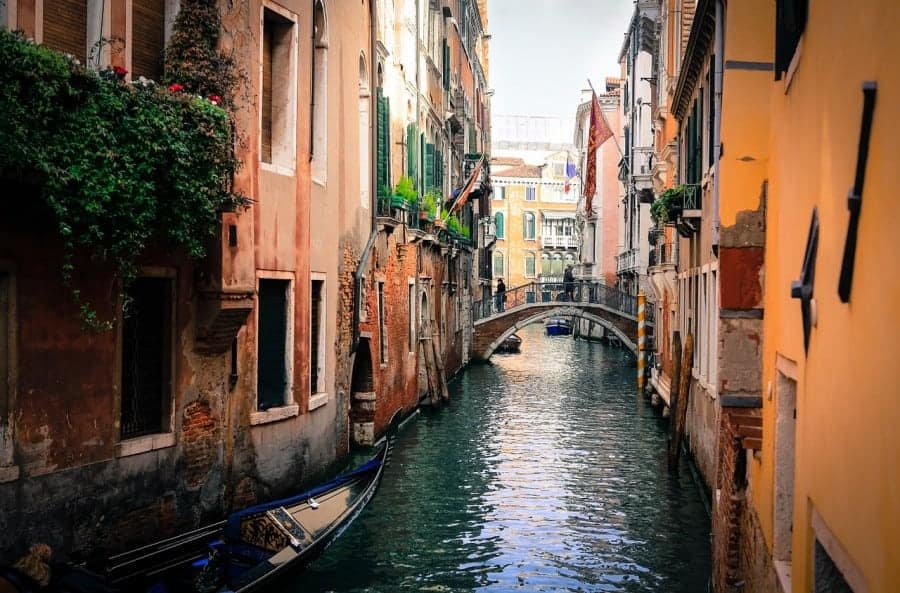 Everyone should get in decent shape and get plenty of rest before any European vacation, but especially when heading to Italy. You can catch up on sleep when you get home, because you don't want to miss the absolutely majestic sunrises from the Lido. Throughout the remainder of the day, there is so much to do and see, and after your traditional breakfast at the local pasticceria, or cake shop, with some espresso and fresh baked pastry to start your day, a canal cruise should be your next stop.
Cruising the Grand canal is something most every tourist does near immediately upon arriving in Venice, with its storied canals infiltrating the city in all directions. You want to arrive early, and sit in the open prow, so you can get the best views. It is a perfectly acceptable way to start your day, and certainly something that can be done at any time, and repeatedly during your visit. With that said, you should not leave Venice without doing this.
The Campanile di San Marco
The Campanile di San Marco, or the bell tower, does open before St. Mark's Basilica. Your visit should be planned so that you arrive in time to take in picturesque views from this tower, offering panoramas of the city in all directions. Also, something to take note of is that the elevator ride to the top usually takes about a half hour, and it is best to arrive as early as possible to avoid long lines.
St. Mark's Basilica
No trip to Venice is complete with a visit to St. Mark's Basilica (http://www.basilicasanmarco.it/?lang=en). There are admission fees to visit the upstairs museum, and you should plan for that. They are small admission fees and well worth it so you can see the upstairs mosaics up-close. If you arrive around opening, which is 9:45 A.M., you will have about 1.5 hours to enjoy in the Basilica before Doge's Place "Secret Itineraries" first tour of the day begins.
Doge's Palace
The Venetian Republic was ruled from this very palace for nearly 1000 years. The "Secret Itineraries" tour is 90-minutes long and takes visitors through the offices, courtrooms, and prison cells that make up this storied compound. The opportunity to tour the Palace yourself, for another 30 minutes after the 90-minute tour is over is an option. With so much to see and do at this tourist go-to attraction, 2 hours will fly by.
Rialto Bridge and Market
A nice way to spend any afternoon in Venice is by shopping and checking out local wares at the Rialto Marketplace. This area will lead you through the most heavily-trafficked shopping district in Venice. Everything you might want to experience about shopping in Venice will likely be found in the streets surrounding the Rialto Bridge which crosses over the Grand Canal.
Gondolas
Perhaps quintessentially Venice, this romantic and fun boat ride should not be missed by any visitors. It is so perfectly meant for you and your significant other, you absolutely have to enjoy this particularly touristy cliché!
End your day with a sunset-viewing from Bacino San Marco, making a perfect end to a wonderful day in a beautiful city.